Introduction
Whilst climate crisis is being increasingly assertive, we are witnessing the real impact on human society. Not a single continent is being spared from natural calamity due to global warming; might it be fire, drought, flood, typhoons and new epidemics just to name a few. The Food and Agriculture Organization (FAO) speaks about 26.4 million people displaced annually between 2008 and 2015 by climate or weather-related disasters. This rising trend poses serious problem to the migration question and extreme right movements are already on the go across the globe on that question. Xenophobia, hatred and nationalism will in no case solve the issue of global warming. Only the clear understanding of what have led us here can help unveil that love for life shall be our guiding spirit in this critical epoch. As a matter of coincidence, just as we are celebrating Karl Marx bicentenary, the question of failure of capitalism is more relevant than ever and the idea of post-capitalist society is starting to make its way. We shall never dismiss capitalism as a social/economical/political philosophy, just as we shall never dismiss the global crisis as a civilizational crisis based on capitalism.
The School of Ecology 2018 is about pursuing a long journey rooted in pre-capitalist and capitalist critics as well as in those indigenous thinking. A journey of deconstruction of myths, mindsets and dogmas of the dominating system that have kept human society in an self-destruction paradigm where progress is only about economic growth; which is in turn about profit maximization; which itself feeds from over-exploitation for more production and more consumption. The pursuing of this long journey is also about hope, combativeness and love that shall take us to look above capitalism.
Moreover, the school will be followed this year by a 2 days Indian Ocean People's Conference (30 & 31 October) to which all participants of the School of Ecology are convened. This conference will be focused on the Indian Ocean specific challenges in the face of global warming. The conference will be conducted with different movements (fisher/trade union/progressive politics/Social movements…) across islands of the Indian Ocean region.
Aims & objectives
The aim of the School of Ecology is to provide technical as well as analytical tools and conceptual framework to participants, especially young activists, on the present ecological crisis facing humanity. The specific aim of the fourth edition will be to focus Ocean and Climate and Ecological Crisis and on the social rift that capitalism have create between society and nature, leading to the present crisis. The objectives is linking and articulating the multi-dimensional crisis - financial/economic. ecological and social - affecting humankind and its habitat, with a special focus on the Ocean. Introducing the concept of Nature as a subject and not as an object, natural resources as commons and a source of sustainable livelihoods and biodiversity to be nurtured, not a private or state property. Promoting the laws of nature in opposition to the law of capitalism. Building capacity and generates knowledge for the development of political people's' power for policy and structural change in society to address the looming ecological disasters.
The School
For the Residential School, we are expecting some 80 participants, 30 international and some 50 locals from Mauritius. During your entire visit to Mauritius, you will be taken in charge by CARES in regards to lodging, meals and transportation.
Just to note that CARES, is an association of activists, working in close collaboration with social and ecological movements, as well as trade unions and alternative movements in Mauritius.
Reading materials
CARES will provide reading materials prior to the School on subjects that shall be addressed in the School. All participants will be expected to read and digest those documents so as to be equipped in understanding and participating fully to the School. Moreover, the draft programme of the School with resource person profile will be made available by mail prior to the School.
Your lodging for the School
For the duration of the School of Ecology you will be lodged in modest rooms either at the Senlis Sur Mer Complex or in nearby bungalows, most of them situated near the beach. There shall also be a camping zone. We have opted for these types of lodging, not only for economic reasons, but also for ethical reasons, in line with the spirit of the School of Ecology and also in line with our struggles to freeze the construction of big hotels in Mauritius, which is generating social and ecological disasters in Mauritius.
The Senlis Sur Mer is a nice complex, designed for educative purposes, situated on the beach of Riambel in the South Coast of Mauritius. It is located in the village of Surinam, 30 minutes drive from the Airport.
Culturality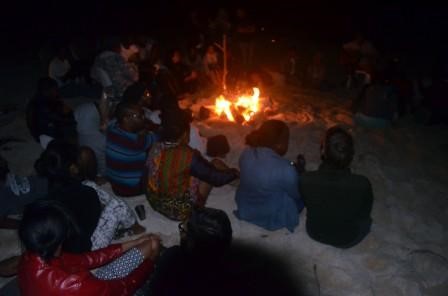 The school is also about learning to know more about each other's culture. Do bring visuals from your country and movements that will be displayed and help in enriching the school. Bring also any musical instrument or anything that translates your people or/and your struggle that you would like to share.
Language
Participants will be from southern african countries and from Indian Ocean islands mainly. Thus english, french and creole will be the most spoken languages of the participants. CARES is making its best for translation devices and translators in english, french, portuguese and Mauritian creole.
Transportation from and the Airport
Our comrades from CARES, will organize to pick you all from the Airport. In case of any emergency please contact Dany Marie (+230 57951214) or Stefan Gua (+230 57826197)
Boarding Pass
We would very much appreciate if you could keep your air travel boarding pass with you and handle it to CARES, upon arrival, for administrative purpose.
Immigration
You will need to fill a form at your arrival and give details about who is hosting you and contact details. Do give the name and address of our organization CARES and the name and cell phone of above mentioned comrades.Automatic word wrap
Center for Alternative Research and StudiesAutomatic word wrap
Mother Courage CenterAutomatic word wrap
Bois Cheri Road, Moka
Health control in Mauritius
Some visitors coming from some listed countries may be subject whilst at the school to blood test by the ministry of health. This forms part of Ministry of Health protocol to prevent the propagation of viruses that can be mosquito vectored. Note that in previous schools some people refused to submit themselves to this test without any consequence.
Food
Breakfast and food prepared by locals and villagers will be provided to all participants. We would appreciate if participants who have special dietary regime to inform us on arrival or prior to arrival.
Internet access
We will ensure internet access at places where international guests will stay and during the School period.
Weather and clothes
We are entering the summer season in Mauritius and the temperature is expected to be around 28 degrees Celsius on the coast during the day. There might also be some rain. We advise that bring your clothes accordingly.
Swimming and footing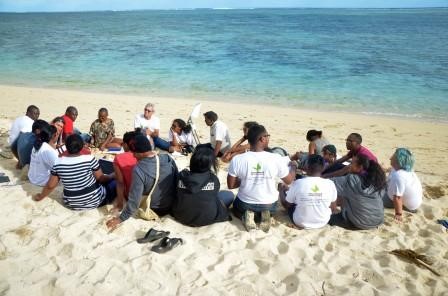 The School will take place on the south coast of the island next to the beach. However SWIMMING IS NOT RECOMMENDED on this part of the island. During free time we might organize to go to nearby beach for a swim. Morning walk on the beachfront can be revitalizing. We recommend therefore that you bring along swimming suit and walking shoes in case you feel inspired here.
Hearts and love
Besides all the above logistic and practical information, it is with our hearts and love that we are welcoming all of you on our land and ocean. This is the most precious things that we will be able to offer to you all.
So a big welcome to all of you!